---
Prime Health & Fitness Magazine

For more information, call (800) 521-0303
---
Summer 1997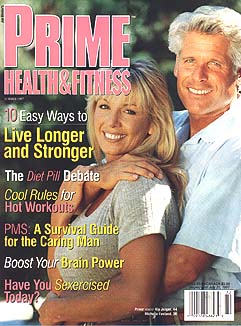 Prime Health & Fitness magazine is dedicated to the confident, active man over 35. It covers advice on all areas, including health, nutrition, mental fitness and sexuality, to graying hair, job stress, marriage, divorce and parenting. It is geared to the man who has no intentions of slowing down as he matures.
---
Summer issue - Table of Contents
---
Features:
Pick up the Pace: Heat up your heart with 5 exciting cardio options.
Safe Sweat: Summertime... and the workout
Walk this Way: Vacations for the sure-footed traveler.
Straighten Up and Fly Right: Are you standing tall or looking old?
Diet Pill Dynasty: Weighning in on the Redux and Fen-Phen phenomenon.
Extend Your Healthy Years: 10 Ways to stay strong and live long.
Mind Games: Priming your cerebral pump.
Love Muscles: Better orgasms through exercise. Need we say more?
Hormonal Mystique: A man's survival guide to PMS.
Departments:
R&D: Stop smoking (and stay calm); a study to have a cow about, and much more.
Anti-Aging Breakthroughs: The latest hits (and misses) of lengevity science.
Success Stories: Putting a size 31 black belt around a former 44 waist.
Inspiration: An LAPD SWAT leader sets the pace for the younger men.
Rehab: Has your fastball lost its heat? Revamp your rotator cuff.
Behavior: Stop snoring and get back in your bed.
Expert Advice: Coping with cholesterol and panic attacks.
Grooming: Are you teeth movie star white or Quaker Oats beige?
Prevention: It's allergy time. Put down the Klennex and boost your immunity.
Primary: Can you get fit in bed? It worked for this exercise pioneer.
Sex Life: Sex without intercourse and erections without needles.
Woman's Word: Twice around the corral with a divorced cowboy.
---