---
Prime Health & Fitness Magazine

For more information, call (800) 521-0303
---
Fall 1997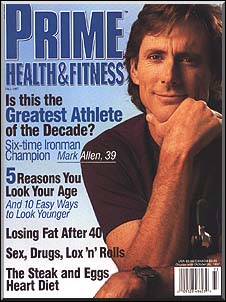 Prime Health & Fitness magazine is dedicated to the confident, active man over 35. It covers advice on all areas, including health, nutrition, mental fitness and sexuality, to graying hair, job stress, marriage, divorce and parenting. It is geared to the man who has no intentions of slowing down as he matures.
---
Fall issue - Table of Contents
Volume 3, Number 3
---
Features:
Going to Waist: Losing fat after 40: What's muscle got to do with it?
The Iron Age: Is mild mannered Mark Allen the greatest athlete of the decade?
Tri It... You'll Like It: Three guys and a baby triathlon.
Workouts on the Water: Ship out and shape up on a fitness cruise.
Sex, Drugs, Lox 'n' Rolls: In search of Love Potion #9
The Weighting Game: 10 tips to get you back to the gym.
Fasting Forward: Be a lean, clean, non eating machine.
Sign of the Time: 5 ways to shed the years.
Code Blue: When your instincts lead you to the edge of death... and back again.
Eat your heart out out danger: Put steak and eggs back in a health diet.
Departments:
R&D: Cancer fighting grapes; tec to green weight loss; caveman aerobics and much more.
Inspiration: Breaking the sound barrier with speed demon, Craig Breedlove.
Longevity: Why are the Feds bad-mouthing anti-aging supplements?
Success Story: The weight came to visit, but it didn't stay.
First Person: A novice's guide to gym rats and jock talk.
Alternative Medicine: A visit with wizard of wellness Andrew Weil, MD.
Grooming: Finding pedi-cures for athlete's feet.
10 Minute Workout: Brace yourself against back troubles.
Sex Life: The buzz on new toys and an old disease.
Prevention: Sound off on hearing damage.
Expert Advice: Step up, park your butt and roll up your sleeve.
Woman's Word: You know you're in trouble when he brings Mr. Ed to bed.
---