June 2001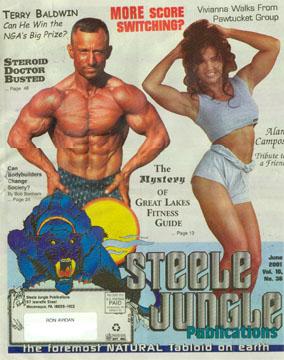 Steele Jungle Publications is a quarterly newspaper dedicated to bodybuilding, powerlifting and exercise. Our emphasis is on natural conditioning; our philosophy to enhance public knowledge and awareness on the dangerous side effects of anabolic steroids, androgens and growth hormones. On the cover is Vivianna Requena and Terry Baldwin.
---
June 2001 Table of Contents
Volume 10, #36
---
Features


ANBA Throws in the Towel! It's Over

ANBC Schedules

Box Scores

Classifieds

Letters to Editor

Natural Schedules

NGA Schedules

North Carolina Supernatural

Suddenly Last Summer



Cult of Personalities



Charles William Walker

Dori Townsend - Mountain States Queen

Flloyd Alan Campos - Powerlifter and Bodybuilder

Jaqueline Frere - NGA's Top Professional

Jay Piccirillo Enters 1st bodybuilding event

Jeanne - Marie Huber responds

Stacey Keshuta - Galaxy Gal

Terry Baldwin

Can he win the NGA's biggest prize?



Contest Results



ANBC Sin City

ANBC Lion County Classic

NGA Can-Am

NGA Natural Massachusetts

NGA Metro - Philly

NGA Rhode Island

NPA 2000 Tri-Cities



Training and Nutrition



Anthony DeAngelis: NGA pro keeps improving

Can bodybuilders change society?

Extraordinary Back, by Yohnnie Shambourger

Idaho's Brent - Mr. NGA VanPelt

Muscle Repair - by John Heck

Travis Rickert's Training



Politics as Usual



ANBC Chairman's Report

Jimmy Ray's Scandal Sheet

NGA Speaks Out

Silas Vows to Raise the Bar

Steroid Doctor Busted

Mystery of the GLFG

What Ever happened to the NGA's Brian McIsaac?