September 1998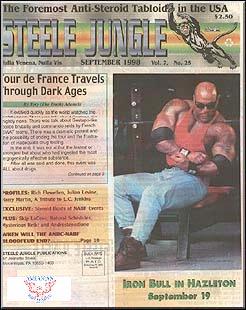 Steele Jungle Publications is a quarterly newspaper dedicated to bodybuilding, powerlifting and exercise. Our emphasis is on natural conditioning; our philosophy to enhance public knowledge and awareness on the dangerous side effects of anabolic steroids, androgens and growth hormones. On the cover is Jimmy Pellechia, the famed 'Iron Bull'.
---
September 1998 Table of Contents
Volume 7, Number 25
---
FEATURES


CAN PINMENTAL THREE-PEAT

BOX SCORES

ELECTRONIC MUSCLE
Web sites on the Internet
EMPOWERING NATURAL BODYBUILDERS

LETTERS TO THE EDITOR

NATURAL SCHEDULES

ROUNDING UP THE USUAL SUSPECTS

SUDDENLY LAST SUMMER
Pictures from various events...
WHO KNOWS WHAT TOMORROW BRINGS?


CULT OF PERSONALITIES



DENNIS WALMER ON THE MOVE

DOUG REISER ... MR AMERICA

HARRY MARTIN

IRON BULL IN HAZLETON
Jimmy Pellechia will be present at the NABF Natural Xtravaganza in Hazleton, Pennsylvania.
JULIAN LEVIN
To carry on the Iron Game tradition by perhaps bring the AAU American to Virginia Beach
LC JENKINS ... A TRIBUTE
Friends talk about the man who died too early.
PERRY TOLBERT JR.

TRENTON LIFTER SCORES AGAIN


CONTEST RESULTS



AAU MILFORD COUNTY
A sell-out crowd and 52 highly competitive competitors.
LONG ISLAND INAUGURAL EVENT

RHODE ISLAND SUPERNATURAL

SUGARLOAF STRONGMAN
Ninety seven competitors entered this event
SUPERNATURAL INVADES ASHEVILLE
A report on the North Carolina Supernatural bodybuilding event.

TRAINING



CHANGING TIMES
Competitive Bodybuilding and the term drug free can alone start up many a conversation, arguments and controversies.
CHOOSING A PERSONAL TRAINER
There are too many 'experts' touting improper and sloppy form as the way to training. How to choose the right one.
SETTING AN EXAMPLE
In the battle of life, it is not the critic who counts; nor the man who points out how the strong man stumbled, or where the door of a deed could have done better.
THE OLDER BODYBUILDER
Being 60+
WHAT IS REIKI?
I is a connection with the ever flowing light energy of the universe... and more.

POLITICS AS USUAL



CONSUMER ALERT ON THE NET
Companies selling steroids on the Internet
DEA MOST POPULAR LIST
The six top confiscated substances of the DEA.
IS THE AAU AMERICA TITLE WORTH ANYTHING?
Doug Reiser, the 1996 Mr. America talks about the Mr. America title...
IT'S TIME FOR THE ANBC-NABF BLOODFEUD TO END
Enough is enough! It is time for Al Thurston and Bob Gormley to stop playing games and make peace!
OTC STEROIDS CAUSING CONCERN
While Androstenedione and it's various derivatives are legal, they are nonetheless a banned substance for some bodybuilding federations, and it creates problems.
SCANDAL SHEET
Jimmie Ray Gossip and Tidbits about items of interest.
TOUR DE FRANCE DOPING CHRONOLOGY

USA TRACK & FIELD STARS SUSPENDED
Randy Barnes and Dennis Mitchell suspended indefinitely for the use of illegal substances.
WHAT'S UP WITH RUSS TESTO?