December 1999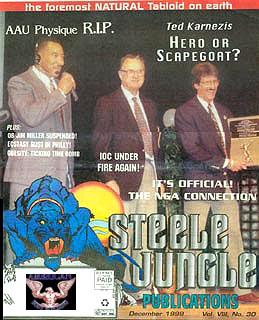 Steele Jungle Publications is a quarterly newspaper dedicated to bodybuilding, powerlifting and exercise. Our emphasis is on natural conditioning; our philosophy to enhance public knowledge and awareness on the dangerous side effects of anabolic steroids, androgens and growth hormones. On the cover is AAU Insiders Promoter Kevin Parrott, Virginia Chairman Bob Crist, and Physique Chairman Ted Karnezis.
---
December 1999 Table of Contents
Volume 8, #30
---
FEATURES


BOX SCORES

CALIFORNIA LAUNCHES WABF

EARL SNYDER TO PRESENT SEMINAR

FOR WOMEN ONLY

LARGEST NAUTRAL SHOW IN HISTORY

LETTERS TO THE EDITOR

NATURAL SCHEDULES

NGA GOES PRO

SUDDENLY LAST SUMMER


CULT OF PERSONALITIES




DAVE GROGAN
Natural Champion
MIRRO BROTHERS AT TRI-CITIES

RICK BALBO'S
Journey to the Top
TEAM SHRED
Dominates USNBA
TERRY MCINTYRE
Overcoming his handicap
YVONNE BLAGMON
Joins boot camp.


CONTEST RESULTS




AAU JUNIOR OLYMPICS

DELAWARE RIVER CLASSIC

CAROLINA NATURAL GRAND PRIX

GOLDEN STATE

MOUNTAIN CLASSIC HELD AT SKI LODGE

MR / MRS. UTAH

MUSCLEMANIA IN NEW HAVEN

NABF PRO-AM NATIONALS

NATURAL XTRAVAGANZA DRAWS 67

NASHUA POWER SURGE

NORTHEASTERN JR. NATIONALS

OKLAHOMA ELITE

PALMETTO STATE

SOUTHERN TERRITORY

TRI-COUNTY MUSCLE CLASSIC
Michael Tull and Bonnie Sue Huber win overalls


TRAINING



NO PAIN, NO GAIN

OBESITY

PERPETRATING A FRAUD

TRAINING LARGE, ROUND SHOULDERS


POLITICS AS USUAL



AAU BANS ALL DRUG TESTING

BEAR'S QB SUSPENDED

DRUG TESTING IN THE AAU

ECSTASY SEIZED IN PHILLY

BRIAN WASHINGTON'S NEW SANCTION… GOODBYE AAU

IOC UNDER FIRE… AGAIN!

JIMMY RAY'S SCANDAL SHEET

MLS BANS ROIDS AND EPO

SQUABBLING IN THE AAU

TED KARNEZIS: HERO OR SCAPEGOAT?