---
Women's Physique World

---
July / August issue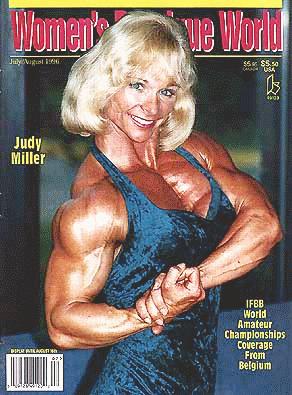 The July / August issue features the 1995 IFBB World Championship. Women's Physique World is a bi-monthly magazine dedicated to women's bodybuilding. It is considered the best in its class for hardcore women's physiques. It covers contests, women who compete professionally and amateur, and has the best pictures. For people who enjoy women bodybuilding, this is definitely the magazine for it.


---
July / August 1996 - Table of Contents
---
Features
1995 IFBB World Amateurs: From the Belgian village of Brugge.
Women's Steel Rose: Colette Guimond wins it!
Denise Masino Pictorial
Anne Whalen: Lone Star Future Star
Judy Miller: 1995 NPC USA Middleweight Runnerup
Deborah Compton: Another Australian Wonder
Laura Fierstein's Evolution F
1995 NABBA Universe: From Birmingham, England
Melinda McNabb: 1995 NPC Ironmaiden Champion
Sherry Meyer: Flying High over 40!
Departments
Editorial: by Steve Wennerstrom, IFBB Women's Historian
WPW Star Gallery: Eija Veisalainen, Barbora Kafkova
Female Muscle Fax: Info on books, pictures, etc.
Muzcle Girlz: Picture's of women bodybuilder's
Coming Next Issue
WPW European Bodybuilder of the Year - 1995: Beatrix Gluck
Letters
---