---
Women's Physique World

---
June 1997 issue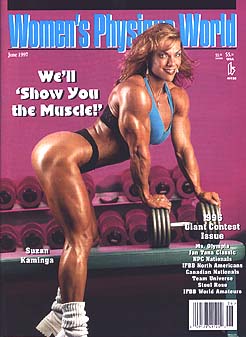 What do skinny arms and big breasts have to do with bodybuilding? A lot, if you check out the other so-called bodybuilding magazines who claim to inform us of bodybuilding, but picture scantily clad fitness women on the covers. This magazine is about the female bodybuilder, for those who are interested in the female bodybuilder, who have a strong, muscular physique.
Women's Physique World has gone to a quarterly magazine, from bi-monthly. This issue features Susan Kaminga, the 1996 IFBB North American Champion, on the cover, and Vickie Gates on the back cover. Women's Physique World is a magazine dedicated to women's bodybuilding. It is considered the best in its class for hardcore women's physiques. It covers contests, women who compete professionally and amateur, and has the best pictures. For people who enjoy women bodybuilding, this is definitely the magazine for it.
---
June 1997 - Table of Contents
---
Features:
1996 Jan Tana Classic: Mellisa Coates wins Roanoke Rumble
1996 Canadian Championships: Desiree Ellis: Overall Winner
1996 NPC Nationals: Gayle Moher wins!
1996 Ms. Olympia: Kim Chizevsky defeats Lenda Murray
1996 IFBB World Amateurs: Eastern Europeans Dominate!
1996 NPC Steel Rose: Champion Denise Hosher
1996 NPC Team Universe: Kristie Kelly kops krown!
1996 IFBB North American Championships: Suzan Kaminga turns pro!
Departments:
Editorial: Political Correctness Gone Crazy: by Steve Wennerstrom, IFBB Women's Historian
WPW Star Gallery:
Barry's Beauties: Lauren Hart, Vikki Meads
Female Muscle Fax: Info on books, pictures, etc.
Muzcle Girlz: Picture's of women bodybuilder's
Letters
---