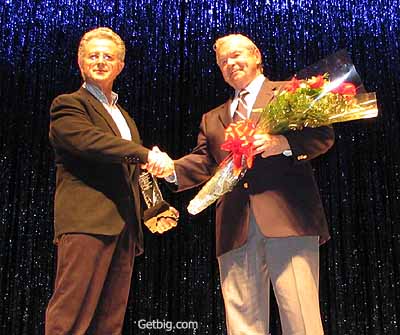 This years Peary & Mabel Rader Lifetime Achievement Award is presented to a sports activist since 1960, a bodybuilding promoter since 1976, when he partnered with Arnold Schwarzenegger to produce the Mr. Olympia, a business and community leader - Jim Lorimer.
In he sports world, Lorimer's rise to prominence came during the 1960's when he helped found and coach the Ohio Track Club women's team, which won the National Track and Field Championships in 1962. During this period, he was chairman of the US. Olympic Committee for Women's Athletics and also served on the U.S. Olympic Weightlifting Committee. In 1965, he was chose as one of the top three Physical Fitness Leaders in the United States by the Jaycees.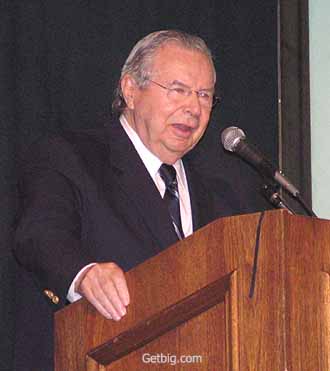 His involvement in bodybuilding promotion began in 1976 when he partnered with Arnold Schwarzenegger to produce the Mr. Olympia in Ohio - the start of a collaboration to produce bodybuilding events in Columbus spanning more than 30 years. They launched the Ms. International and the annual Arnold Schwarzenegger Classic in 1989. These two events served as the core for what is now three days of fitness and athletic even that comprise the Arnold Fitness Weekend.
During the administration of President George Herbert Walker Bush, Lorimer served on the President's Council on Physical Fitness and Sports. In all, Lorimer has played a key role in more than 70 world and national weightlifting, bodybuilding, fitness, and track and field championships.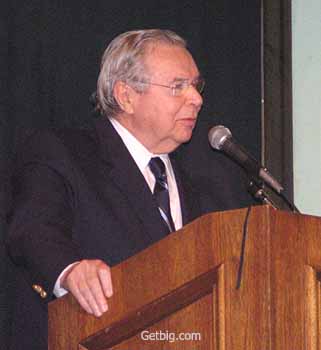 Lorimer is an attorney who early in his career served as a special agent in the FBI. As a businessman, Lorimer rose to Vice President of Government Relations at Nationwide Insurance Company, one of he largest multi-line insurance firms in the country. While there, he set up and conducted a model corporate fitness program.
He earned the 1998 Greater Columbus Convention and Vistors Burea's "Greater Columbus Hospitality Award" for hjs role in brining international recognition and economic contributions to Columbus with the Arnold Fitness Weekend.
Lorimer has compiled an extensive record of community service, and as early as the 1960's was selected "Man of the Year" in Worthington and one of the "Ten Men of the Year" in Columbus by the area Jaycees. He has been Mayor or Vice Mayor of Worthington, Ohio for the past 38 years.