2012 IFBB Grand Prix Los Angeles Results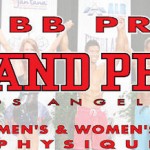 Congratulations to Mark Anthony Wingson and Sara Hurrle on their victories at the first annual IFBB Grand Prix Los Angeles, in the new Mens and Womens Pro Physique divisions. Here are the complete results.



IFBB Grand Prix Los Angeles Mens Physique Pro
The second ever Mens Physique pro contest of the new division came with a startling difference from the first, as the judges in this venue were not interested in tight or more muscular types of physiques but rather the less vascular (less bodybuilding-esc). With that, Matt Christainer, who won the first ever contest, dropped to a surprising 8th place in this contest, while Alex Carneiro (who was 2nd in Sacramento) dropped to 5th. Mark Anthony, and Collin Humphrey were the physiques to represent here, and possibly what the judges will be looking for as this division evolves. Here are the results.
1. Mark Anthony Wingson Las Vegas, Nevada 5
2. Collin Humphrey Highpoint, North Carolina 11
3. Miguel Aguilar Temecula, California 15
4. Burton Hughes Palm Beach Gardens, Florida 22
5. Alex Carneiro Arvada, Colorado 23
6. Bobby Ashhurst Scottsdale, Arizona 36
7. Angel Cordero Avon, Ohio 38
8. Matt Christainer Schottdale, Arizona 39
9. Ryan Hughes Rego Park, New York 41
10. Tyler Larson Calvert City, Kentucky 46
IFBB Grand Prix Los Angeles Womens Physique Pro
No question that the judges here likes the softer look, with both Sara Hurrle and Patricia Mello looking great. Sara has been on a tremendous roll, since switching from Figure to Womens Physique, with two wins and one second place finish. She is the one to represent the new division, which is evolving into a Figure type of physique with more musscles, but not too much that you look like a lightweight bodybuilder. It is tough to exactly figure out.
What I do enjoy about this new division are the routines. Love the routines. They are quite entertaining, and with the right kind of music, and the right poses, will bring this new division into the limelight that it deserves. Here are the results.
1. Sara Hurrle – Englewood, Colorado – 7
2. Patricia Mello – Sao Paulo, Brazil – 9
3. Sabrina Taylor – Oceanside, California – 14
4. Karina Nascimento – Boca Rotan, Florida – 20
5. Stacy Simons-McDowell – Blackwood, New Jersey – 25
6. Joele Smith – Hattiesburg, Mississippi – 26
7. Carrie Simmons – Marina Del Rey, California – 33
8. Cea Anna Kerr – Saskatchewan, Canada – 40
9. Trish Wood – Roseville, California – 47
10. Venus Nguyen – Irvine, California – 48
11. Marina Lopez – Aurora, Colorado – 53
12. Kris Murrell – Glendale, California – 64
13. Donna Jones – Queensland, Australia – 65
14. Tonia Moore – Bellflower, California – 67
15. Mascha Tieken – Hillegum, Netherlands – 70
16. Irina Veselova – Manalapan, New Jersey, but from Russia – 76