2012 IFBB Europa Super Show Dallas Contest Results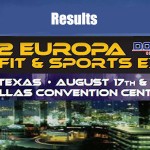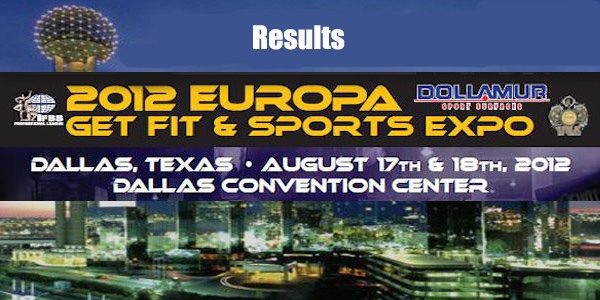 Congratulations to Shawn Rhoden, David Henry and Alea Suarez for winning their respective contests at the 2012 IFBB Europa Super Show in Dallas, Texas. Here are the complete results from all three of the contests.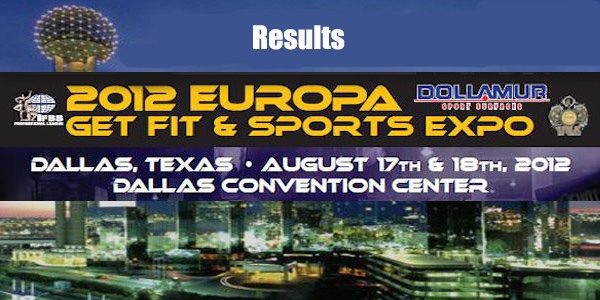 Shawn Rhoden did it again, as he did a week earlier in Tampa, taking home another first place win, and putting himself out there as one of the best 2012 summer bodybuilders. Hidetada Yamagishi took a surprise second over Toney Freeman, as reports after prejudging was that the contest would be a battle between Shawn and Toney. Here are the complete results from the 2012 IFBB Europa Super Show Mens Open Pro Bodybuilding.
1. Shawn Rhoden – $ 10,000
2. Hidetada Yamagishi – $ 5,000
3. Toney Freeman – $ 3,000
4. Roelly Winklaar – $1,000
5. Edward Nunn – $1,000
6. Todd Jewell
7. Brandon Curry
8. Grigori Atoyan
9. Jeff Long
10. Lee Banks
11. Pablo Ayala
12. An Nguyen
13. Manuel Lomeli
14. Keith Williams
15. Marc Lavoie
16. Cesar Mendible
16. Constantinos Demetriou
16. Gus Carter
16. Rodney Davis
16. Sean Allan
16. Zaher Moukahal
DNF. Troy Alves
In the Men's 212lbs and Under Competition, David Henry came back from a year stint in the Air Force serving our country, and once again, showed everything that he is one of the best 'small' bodybuilders out there, easily taking a win here in Dallas. Look for David to be one of the top bodybuilders at the Olympia weekend at the end of September. Here are the results from the contest.
1. David Henry
2. Ricky "Tricky" Jackson
3. William Bonac
4. Derik Farnsworth
5. Marvin Ward
6. Peter Foucaux
7. Marcos Cardona
8. Rixio Tapia
9. Quincy Winklaar
10. Ahmad Ahmad
11. Robert Belisle
12. Oliver Adzievski
13. Wendell Floyd
14. Roger Ferrer
15. Gianluca Catapano
In the third IFBB Pro contest of the evening, IFBB Pro Figure, Alea Suarez took the win, over Larissa Reis, who came in softer and probably in the best shape that we have seen here. The top four all looked great here, and this was a very tough contest to judge. Here are the results.
1. Alea Suarez
2. Larissa Reis
3. Tatiana Koshman
4. Essence Monet
5. Tivisay Briceno
6. Vicki Counts
7. Felicia Romero
8. Katerina Tarbox
9. Georgina Lona
10. Michelle Mayberry
11. Julia Aragon
12. Jodie Minear
13. Nuria Novoa
14. Laurie Schnelle
15. Maria Gallardo
16. Clarissa Franschesca Castaneda
16. Debbie Fowler
16. Melanie Oberg
16. Miriam Sanchez
16. Sandie Kight
16. Soleivi Hernandez