2012 IFBB Pacific USA Pro Bikini Complete Results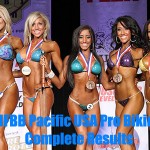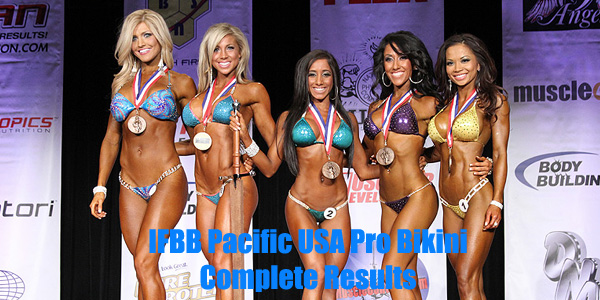 Congratulations to Narmin Assria, for her first win, and automatically qualifying for the 2012 Olympia. Narmin took the win over Taylor Matheny, and Tiffany Boydston, out in San Diego. Here are the complete results.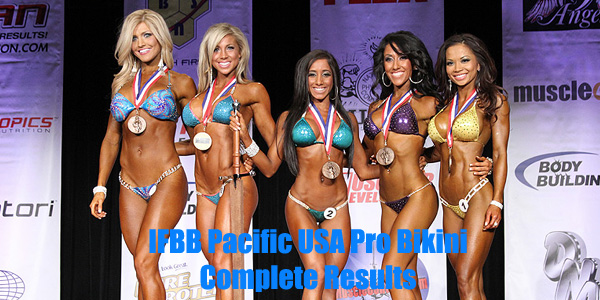 Here are the complete results of the IFBB Pacific USA Pro Bikini.
1. Narmin Assria
2. Taylor Matheny
3. Tiffany Marie Boydston
4. Crystal Matthews
5. Noy Alexander
6. Abigail Burrows
7. Maureen Doherty
8. Christie Marquez
9. Jennifer Hohnbaum
10. Diana Harbort
This was Narmin's night, as she posed right, her physique looked great, and she was beaming on that stage. This was her first win, and automatically qualified her for the Olympia. Taylor Matheny looked incredible, the best I have ever seen her, and also toned down her posing on stage, and impressed the judges. Tiffany Boydston also looked good, and is already qualified for the Olympipa.
Crystal Rose Matthews impressed me here, at her all time best in her physique and could of been in third place. Noy Alexander (who also turned pro at the NPC USAs) came in here into a tough competition and took 5th. Surprisinly, Abbie Burrows, who was a precontest favorite to be first or second, was a little off, tense and it showed, with the judges placing her out of the top five. Still, we will see Abbie at the Olympia too, and she can only get better from here.
Jennifer Dietrick was injured a few days earlier and pulled out of the competition, while Jennifer Hohnbaum (turned pro at the USAs) entered the competition after the initial list was given.