2012 Mr. Olympia – The 'Expert' Predictions for the contest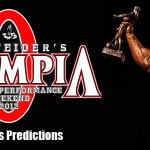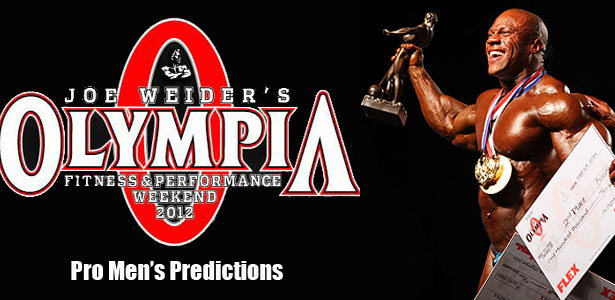 The 2012 Mr. Olympia, the premier pro bodybuilding contest , will begin on Friday, September 28th, at 7pm, at the Orleans Arena, where 20 of the best bodybuilders in the world will go head to head against each other. As we do each year, the predictions come, and the debate begins. Who will be the top six?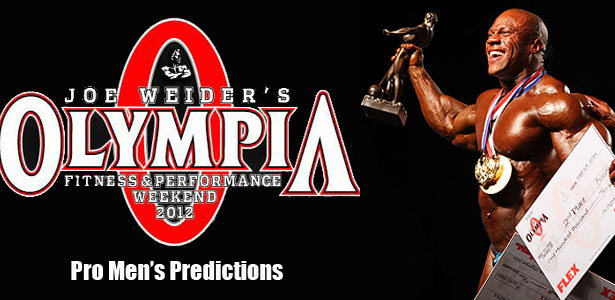 So here is the list of who has qualified. 24 Competitors! They are:
1. Balto Abbaspour (Iran)
2. Lionel Beyeke (France)
3. Evan Centopani (USA)
4. Jay Cutler (USA) – Not Competing
5. Jon Delarosa (USA) – Not Competing
6. Toney Freeman (USA)
7. Kai Greene (USA)
8. Phil Heath (USA)
9. Dexter Jackson (USA)
10. Johnnie Jackson (USA)
11. Michael Kefalianos (Australia)
12. Victor Martinez (Domincan Republic) – Not Competing
13. Cedric McMillan (USA) – Not Competing
14. Juan Morel (USA) – Not Competing
15. Essa Obaid (UAE)
16. Ben Pakulski (USA)
17. Shawn Rhoden (USA)
18. Ronny Rockel (Germany)
19. Fred Smalls (USA)
20. Branch Warren (USA)
21. Roelly Winklaar (Netherlands)
22. Bill Wilmore (USA)
23. Dennis Wolf (Germany)
24. Hidetada Yamagishi (Japan)
With 19 competitors in the contest (Balto Abbaspour is questionable), you never know what may happen. But one thing the experts all agree on. That Phil Heath is unbeatable here, if he comes in with the physique we all know he can. That leaves 2nd through 6th. Here are our predictions on the top six
Ron 'Yogi' Avidan Picks
1. Phil Heath
2. Branch Warren
3. Kai Greene
4. Dennis Wolf
5. Evan Centopani
6. Dexter Jackson
Isaac 'Lifter' Hinds Picks
1. Phil Heath
2. Branch Warren
3. Kai Greene
4. Dennis Wolf
5. Dexter Jackson
6. Shawn Rhoden
Lonnie 'The Swami' Teper Picks
1. Phil Heath
2. Kai Greene
3. Branch Warren
4. Dennis Wolf
5. Shawn Rhoden
6. Evan Centopani
Of course, anyone else can sneak into the top six, including Toney Freeman, Lionel Beyeke, Roelly Winklaar, Ben Pakulski, Ronny Rockel and Hideatada Yamagishi. One can never know until that Friday evening at 7pm, when prejudging begins. See you there.