2013 IFBB FIBO Power – April 12-13th – Germany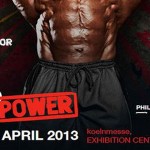 The FIBO is one of the largest sports nutrition and expos in Europa, and as usual, it will have two IFBB Pro contests attached to it, IFBB Pro Men's Bodybuilding and IFBB Pro Figure. Here is the information.


Dennis James and Markus Rühl will be the emcee's for the evening contest, which will be held on saturday, April 13th, 2013. The venue will be the Koelnmesse – "Kristallsaal", Entrance West, 2nd floor, Cologne, Germany.
Prejudging will begin at 10:30am for the IFBB Pro Women's Fitness and 11:15am for the IFBB Pro Men's BB. Finals will begin at 6:30pm.
IFBB Pro Mens Bodybuilding Competitors
1. Baito Abbaspour
2. Jaime Atienza
3. Mohamed Bannout
4. Dainius Barzinskas
5. Anton Breznik
6. Johnnie Jackson
7. Michael Kefalianos
8. Jeff Long
9. Vincente Santamaria Martinez
10. Cedric McMillan
11. Zaher Moukahal
12. An Nguyen
13. Ed Nunn
14. Robert Piotrkowicz
15. Ronny Rockel
16. Daniel Toth
IFBB Pro Fitness Competitors
1. Bethany Cisternino
2. Regiane DaSilva
3. Nicole Duncan
4. Ryall Graber-Vasani
5. Amanda Hatfield
6. Whitney Jones
7. Somkina Liudmila
8, Diana Monteiro
9. Babette Mulford
10. Kizzy Vaines