2013 IFBB Governor's Cup Pro Figure Results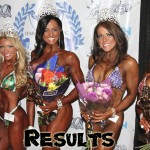 Heather Dees came into Sacramento on a streak, winning the contest over a large group of 20 competitors. It wasn't easy, winning by ONE point over Wendy Fortino. Here are the results.


Heather Dees looked incredible, but many thought that Northern California resident Wendy Fortino won this contest. And it was very close, with a one point difference between first and second. Third, Fourth and Fifth place also was so close, each with a one point advantage. Here are the results.
1. Heather Dees
2. Wendy Fortino
3. Mallory Haldeman
4. Victoria Adelus
5. Monica Labriola
6. Bojana Vasiljevic
7. Elizabeth Jenkins
8. Maria Sanchez
9. Carin Hawkins
10. Nicole Sims
11. Rebekah Willich
12. Jennifer DeJoya
13. Leah Berti
14. Amanda Doherty
15. Kiana Phi
16. Georgina Lona
16. Heidi Sorsa
16. Katerina Tarbox
16. Kenyatta Jones-Arietta
16. Marci Colliau
Here are the scorecard results with the points.