2013 NPC / IFBB Los Angeles Grand Prix Contest Info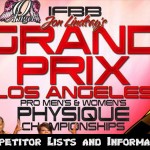 On Saturday, April 13, the 2013 NPC / IFBB Los Angeles Grand Prix will be held, in Culver City. Here are the IFBB mens and womens physique competitor lists, info and more on this contest.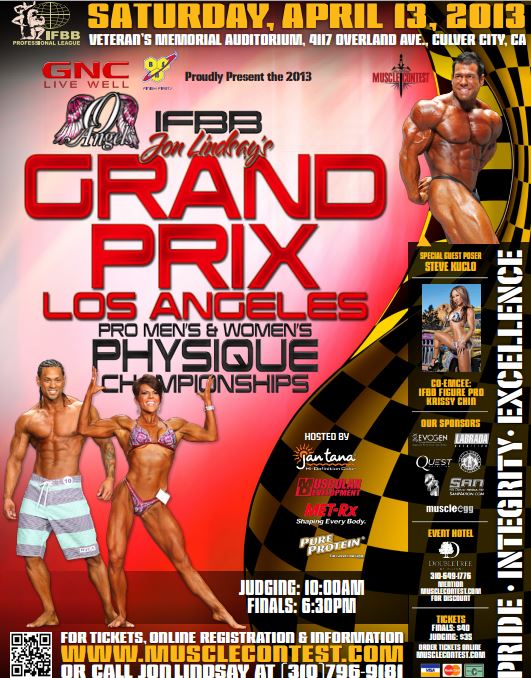 Two IFBB pro contests (Mens Physique and Womens Physique) are going to be held at the Veteran's Memorial Auditorium, 4117 Overland Avenue, Culver City, California 90230, on Saturday, April 13th. Of course, there will be hundreds of NPC competitors, in mens bodybuilding, figure, bikini, and physique also competing.
IFBB Pro Competitors include (as of April 9th)
IFBB Men's Physique
1. Todd Abrams (Frisco, Texas)
2. Michael Anderson (Cleveland, Ohio)
3. Tyler Anderson (San Diego, California)
4. Adam Bankston (Chico, California)
5. Justin Busiere (Orlando, Florida)
6. Michael Barnt (Roseville, California)
7. Alexandre Carneiro (Brazil)
8. Matt Christianer (North Hollywood, California)
9. Matt DuBois (Antioch, California)
10. Scott Lamb (San Jose, California)
11. Trevor Larsen (Henderson, Nevada)
12. Ian Lauer (Burbank, California)
13. Keenon LeBlanc Jr (Marrero, Louisiana)
14. Douglas Peanut (Perth Amboy, New Jersey)
15. Jason Poston (Bedford, Texas)
16. William Sullivan (Syracuse, New York)
17. Donta Tanner (Waipahu, Hawaii)
18. Mark Anthony Wingson (Las Vegas, Nevada)
19. Tory Woodward (San Jose, California)
IFBB Women's Physique
1. Debbie Barrable (Alberta, Canada)
2. Tycie Coppett (Johns Creek, Georgia)
3. Susan Graham (Paso Robles, California)
4. Keri Ann Heitzman (Portland, Oregon)
5. Karin (Kimura) Hobbs (Boise, Idaho)
6. Anne Marie Kam (Eugene, Oregon)
7. Anne Marie Lasserre (Australia)
8. Leon Leonard (Sacramento, California)
9. Patricia Mello (Sao Paulo, Brazil)
10. Venus Nguyen (Irvine, California)
11. Antonia Perdikakis (Cockeysville, Maryland)
12. Janessa Roy (Manitoba, Canada)
13. Jill Rudison (Venice, California)
14. Stacy (Simons) McDowell (Blackwood, New Jersey)
15. Michelle Trapp (San Diego, California)
16. Elizabeth White Wilson (North Carolina)
Prejudging will begin at 10am (starting with the NPC, and the IFBB sometime an hour+ later on). Finals start at 6:30pm. See you there.