2014 IFBB Northern California Pro Bikini Results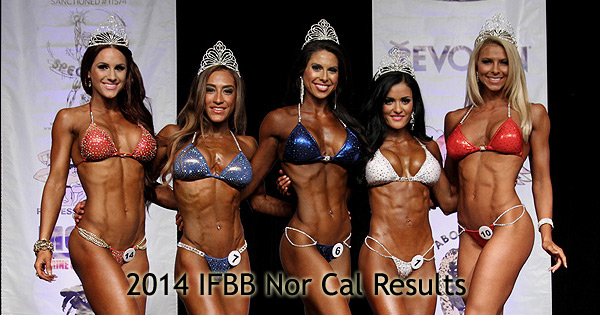 Congratulations to Angela Marquez, who won the Open, and Krissy Chin, who won the Masters IFBB Northern California Pro Bikini contests. Here are the results.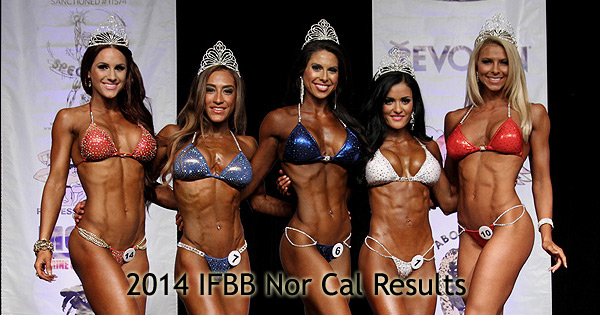 It was a very close win for Angela Marquez, who won her second event in two weeks (the first was at the Dennis James Pro Bikini). Angela took the top honors here by one point, with Angela getting a 4, and Jessica Arevalo a 5. It was that close.
Christie Marquez looked radiant on stage, and her physique keeps getting better. Christie is already qualified for the Bikini Olympia. Janelle Saitone-McGuire took 4th, and also looked incredible, bringing in of the the best physiques that she ever has. Coming in 5th was Nikola Weiterova, who is out here from Europe and looked great too.
In the Masters, Krissy Chin took the top honors with her win here, in only the second contest since she had a baby. Krissy looked amazing on that stage!
Here are the complete results from both contests.
IFBB Northern California Pro Bikini Results
1. Angela Marquez
2. Jessica Arevalo
3. Christie Marquez
4. Janelle Saitone-McGuire
5. Nikola Weiterova
6. Krissy Chin
7. Amy Updike
8. Lisa Asuncion
9. Katherine Williams
10. Nissan Weaver
11. Rosemary Valenzuela
12. Michelle Mein
13. Sandy Avelar
14. Liana Hamilton
15. Stacey Naito
IFBB Northern California Pro Masters Bikini Results
1. Krissy Chin
2. Rosemary Valenzuela
3. Michelle Mein
4. Sandy Avelar
5. Liana Hamilton
6. Stacey Naito