2019 Bikini Olympia Complete Results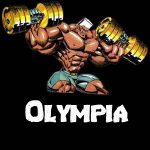 Congratulation to Elisa Pecini, who won the 2019 Bikini Olympia contest at the Orleans Arena in Las Vegas, Nevada, on September 14th. Complete Contest Results Below.
The 2019 Bikini Olympia contest was a tough one. Angelica Teixeira, the reigning champion, was regulated into third place at the prejudging, and did not recover back at the finals. That left Janet and Elisa, whom both looked incredible.  It really was very close, but the judges awarded first to Elisa, who came from Brazil and did not speak English. The emotions were strong though, she tears of joy when she realized that she would be crowned the new champion.  At this contest, the top ten all looked incredible!
Here are the complete results, the judges only score the top 15.
1. Elisa Pecini
2. Janet Layug
3. Angelica Teixeira
4. Lauralie Chapados
5. Jennifer Dorie
6. Ashley Kaltwasser
7. Jennifer Ronzitti
8. Etila Santiago Santos
9. Maureen Blanquisco
10. Marcia Goncalves
11. Camile Periat
12. Beatriz Biscaia
13. Priscila Leimbacher
14. Cristobalina Pajares
15. Monica Ellis
16. Eli Fernandez
16. Kim Gutierrez
16. Jourdanne Lee
16. Breena Martinez
16. Jessica Palmer
16. Mariella Pellegrino
16. Alexandria Ross
16. Karina Skowronska
16. Francesca Stoico
16. Jasmine Williams