2019 Mr. Olympia Bodybuilding 212lbs and Under Results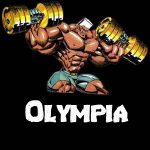 Kamal Elgargni beat Derek Lunsford to capture the 2019 Olympia Men's Bodybuilding 212lbs and Under title at the Orleans Arena in Las Vegas on September 13th. Here are the complete results.
Flex Lewis, who held the Mr. Olympia 212lb title for 7 years, had chosen to retire after his win in 2018, leaving the title up for grabs.  The two favorites were Derek and Kamal, whom had placed 2nd and 3rd respectively last year after Flex.  Once again, Friday evening, these two were battling it out, but this year, Kamal beat Derek for the win! Congratulations!
Results are as follows:
1. Kamal Elgargni
2. Derek Lunsford
3. Shaun Clarida
4. John Jewett
5. Ahmad Ashkanani
6. Sami Al Haddad
7. Eduardo Correa Dasilva
8. Hidetada Yamagishi
9. Aaron Polites
10. Angel Calderon Frias
11. David Henry
12. Zane Watson
13. Oleh Kryvyi
14. Fahad Zaid Hazzizi
15. Tomas Tabiciar
16. Noel Adame
16. Kokeny Bela
16. Lloyd Dollar
16. Steve Benthin