2019 Olympia Women's Physique Results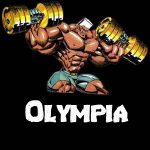 Congratulations to Shanique Grant, who won the 2019 Olympia Women's Physique contest. Shanique successfully defended the title she also won in 2018! Complete results below.

The battle between Shanique and Sarah was a good one. Sarah, at last year's Olympia, was 10th place, but she vastly improved this year to almost capture the title. However, Shanique looked incredible, and at the end, was crowned the champion again.
Results for the 2019 Olympia Women's Physique are:
1. Shanique Grant
2. Sarah Villegas
3. Natalia Abraham Coelho
4. Daniely Castilho
5. Laura Pintado Chinchilla
6. Valentina Mishina
7. Jennifer Taylor
8. Margita Zamolova
9. Tomefafa Ameko
10. Sheikha Nguyen
11. Mayla Ash
12. Heather Grace
13. Brittany Watts
14. Laura Hays
15. Ivie Rhein
16. Reshanna Boswell
16. Sheila Bleck
16. Jeannie Feldman
16. Ann-Lorraine Mohn