Tag Archives:
bodybuilding.com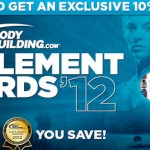 The eighth annual Bodybuilding.com supplement award nominees have been announced and the voting is open. The awards offer an easy, honest way for consumers to vote on the products they feel work. Show your appreciation for your favorite brand(s) by voting. Bodybuilding.com is offering a 10% discount just for casting your vote. Last year over 1 million people voted. This year 70+ brands were nominated, representing the industry leaders in delivering high-quality, effective products.
Congratulations to Isaac Hinds, Bodybuilding.com's Photographer of the Year for 2007. This well deserved award shows that the members do appreciate excellent pictures. Isaac shot over 20 various events for bodybuilding.com, as well as multiple photo shoots. Isaac has also been a good friend and it has been fun shooting many events with his humor.
Here is a pic of Isaac (Lift Studios) shooting Amy Peters in Dallas at the NPC Nationals.