Hi-Tech Pharmaceuticals signs IFBB Pro Ashley Kaltwasser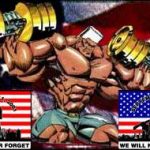 Hi-Tech Pharmaceuticals Announces Signing Three Time Ms. Olympia Bikini Pro Ashley Kaltwasser.
Hi-Tech Pharmaceuticals, Inc. (Hi-Tech), a globally distributed sport nutrition company, is proud to announce that IFBB Pro and (3X) three time Ms. Olympia champion Ashley Kaltwasser has signed an athlete sponsorship agreement with Hi-Tech. Ashley is the only woman in history to win three titles in a row or even back to back Olympia titles. In 2014 Ashley earned a perfect score from the judges at the 2014 Bikini Olympia.
In 2013, Ashley won her first Ms. Olympia title, earning her most prestigious title to date, Ms. Bikini Olympia. She was the first rookie to ever win this title. That honor was followed by a history making win at the Feb. 2014 invitation-only Arnold Classic. These wins cemented her name in the history books as the only bikini pro to ever win both titles.
"This is a very exciting athlete signing for Hi-Tech, Ashley is the most elite Bikini competitor to ever hit the stage. I have followed Ashley's career and am looking forward to helping to support Ashley's goal to be the 2018 Olympia Champion," said Jared Wheat, Hi-Tech CEO. Our vision is to grow a sports nutrition empire with athletes of all genres helping to spread Hi-Tech's message of physical fitness excellence through nutrition. "I welcome Ashley to Team Hi-Tech! She is a great representative of the balance of beauty and Fitness that women aim to achieve."
"We are excited to work with Ashley to bring more attention to nutritional science and how it can enhance a physique and overall athletic performance, and most importantly, fuel athletes safely," said Wheat.
"I am so excited to join forces with the most innovative company in the industry, TEAM HI-TECH!" said Ashley. Ashley will not be competing in Bikini in 2017 as she takes a year off to enhance her physique, but she will be at the Olympia in Las Vegas this September 15-16 at the Hi-Tech booth. She will be joined by many other TEAM HI-TECH female Athletes, Holly Holm, Shannah Baker, and Julianna Daniel to name a few. The Hi-Tech booth will be wildly popular as they will be unveiling their all new pre-workout muscle builder Ultimate Orange along with the wildly popular thermogenic powerhouse Lipodrene Elite.