The 2019 Olympia Weekend has a new event producer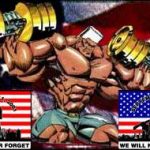 Congratulations to Tamer El-Guindy, who is now the 2019 Olympia event producer.   Tamer takes over for Robin Chang, who is now full time expanding the NPC Worldwider and IFBB Pro League all over the world.

Here is the PR Newswire from American Media regarding the 2019 Olympia
NEW YORK, April 8, 2019 /PRNewswire/ — Joe Weider's Olympia Fitness & Performance Weekend, the fitness industry's showcase event, is enjoying significant momentum thus far in 2019 with a flurry of new sponsorship commitments and revenue opportunities. Gold level VIP Packages have already sold out and individual tickets have just gone on sale for the September 12-15th Las Vegas event.
American Media, LLC Chairman & CEO David J. Pecker explains, "Under the direction of our new Chief Olympia Officer Dan Solomon, the production team is full speed ahead. And with a total prize purse of nearly $1.5 million, including $400,000 to the Mr. Olympia champion, the 2019 Olympia competition is the most lucrative competition in the category, by a wide margin. I'm also excited to share that plans are currently in the works to increase prize money for the women's events to an all-time high."
Mr. Solomon added that his focus is on elevating the overall fan experience. "The Olympia Expo, a central part of the weekend, has emerged as a destination for the most innovative and respected health and fitness companies to showcase their products," he said.  Held at the Las Vegas Convention Center, this year's expo will welcome an even broader cross-section of the global fitness movement.  American Media's newsstand presence and digital media properties, with an audience reach of more than 120 million, are positioning this year's Olympia to be the most heavily promoted fitness event of all time.
As part of a plan to bring a fresh set of eyes to the overall production, Solomon recently named Tamer El-Guindy to serve as the event's producer. Widely considered one of the fitness industry's most experienced event promoters, El-Guindy will oversee the execution of the five-day event. Long time Muscle & Fitness and Flex Magazine insider Angelica Nebbia has been promoted to Olympia Coordinator while Cayden Riley moves into the role of Olympia Communications Director.  Craig Arthur (Expo Director), Martin Carrillo (Technical Director) and Michelle Arthur (Production Coordinator) are back for the 2019 event.
Jim Manion, president of the NPC and the IFBB Professional League adds, "It's only April and we're already seeing a lot of excitement building around this year's Olympia. Looking forward to seeing our NPC and Pro League family in Vegas in September. This is one you don't want to miss." Manion added that Robin Chang, formerly the producer of Olympia Weekend, will now transition to a full-time role as International Director for the NPC Worldwide and the IFBB Professional League and will oversee coordination and scheduling for the global expansion of the two organizations.
"The Olympia started out simply as a bodybuilding contest," says Mr. Solomon. "As the years passed, it grew into a weekend-long fitness extravaganza.  Now, in its 55th year, the Olympia stands tall as a global brand, an international symbol of achievement, and one of the fitness industry's most prestigious and celebrated traditions. Keep an eye out for some exciting announcements in the coming weeks."   To learn more about sponsorship and exhibitor opportunities, as well as tickets and remaining VIP packages, visit MrOlympia.com.
About American Media, LLC – American Media, LLC owns and operates the leading print and digital celebrity and active lifestyle media brands in the United States. American Media's titles include Us Weekly, Star, OK!, In Touch, Life & Style, Closer, Men's Journal, Muscle & Fitness, Powder, Snowboarder, Surfer, Bike, Mr. Olympia Contest, National Enquirer and other celebrity and teen titles. American Media also manages nineteen different digital sites including Usmagazine.com, OKmagazine.com, RadarOnline.com, Intouchweekly.com, Lifeandstylemag.com, Closerweekly.com, MensJournal.com, MuscleandFitness.com, Powder.com, Surfer.com and other digital and social properties.  American Media's magazines have a combined total circulation of 5.7+ million and reach approximately 49.4 million men and women each month. American Media's digital properties reach approximately 65 million unique visitors monthly.
View original content:https://www.prnewswire.com/news-releases/joe-weiders-olympia-fitness–performance-weekend-fueled-by-new-sponsors-and-renewed-vision-300826427.html