2019 Mr. Olympia Complete Results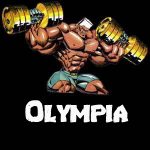 Congratulations to Brandon Curry, who became the 15th person to hold the Mr. Olympia title, at the Orleans Arena in Las Vegas! See complete results here.
This year's Olympia was much different than the others in recent history.  The 2018 champion, Shawn Rhoden, was not allowed to compete in this year's Olympia due to alleged police charges. Also, Phil Heath, last year's second runner up, chose not to compete. Others like Kai Greene and Big Ramy also did not compete. This led to the 2019 Mr. Olympia being wide open on who will win.
Complete Results of the 2019 Mr. Olympia
Brandon Curry
William Bonac
Hadi Choopan
Dexter Jackson
Roelly Winklaar
Steve Kuclo
Cedric Mcmillan
Lukas Osladil
Akim Williams
Patrick Moore
Luke Sandoe
Jonathan Delarosa
Maxx Charles
Juan Morel
Michael Lockett
Mohamed Shaaban